A successful UX designer has to have a lot of different skills and experience, including website analysis, design research and wireframing.
If you are looking to become a UX designer, you may have wondered whether you also need to add coding to your skill set.
We find out if UX designers need to know how to code, and why.
Advertising links are marked with *. We receive a small commission on sales, nothing changes for you.
Does A UX Designer Need To Code?
No, UX designers do not need to code. However, there may be occasions where knowing how to code can be advantageous.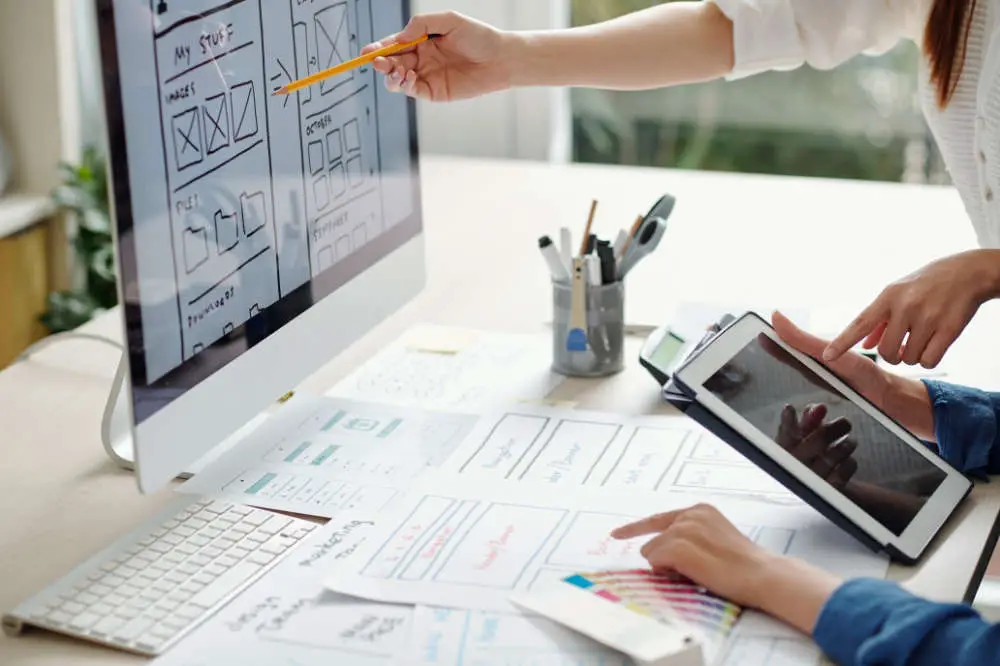 Essentials Skills Of A UX Designer
Before we take a look at why a UX designer may want to learn coding, let's find out more about the important skills a UX designer needs to do his job.
A UX designer is responsible for the user experience of a website. He has to understand the user's goals and frustrations. 
When the design team create a product prototype, the design needs to be tested to ensure that it works for the user and addresses the user's pain points.
In order to find out more about these details, UX designers run interviews and in-depth analysis on the UX design, and they also test the design thoroughly.
There are a number of different research methods that a UX designer needs for his job.
In addition, a UX designer also must be able to understand the concept of user interface design, information architecture, interaction designs as well as layout design.
Together with the research on what the user needs, he can address any design issues on the website and improve functionality as well as the visual design.
As part of these improvements, UX designers need to create prototypes and wireframes. This will bring a design team's vision to life, and it will help test the practicality of the design, for example, in a beta version.
In order to do this, UX and UI designers need to know how to use different design tools, such as Adobe XD, Photoshop and Illustrator.
They may also need to user other wireframing tools.
Why Should A UX Designer Learn To Code?
While coding isn't a must-have as a UX designer, it can be very advantageous. Let's take a look at some of the reasons why a UX designer should learn coding.
Understand What's Possible
One of the biggest advantages of learning how to code is that it brings UX designers closer to developers.
It makes communication with developers easier, and design teams will get a better understanding of the overall development process.
This is important because designers may have a range of ideas but they may not be all practical and cannot be coded so easily.
In addition, UX designers also need to understand the requirements to build a product. This will give them a better insight into what their design can achieve.
Important For Lean Organizations
The goal of a lean organization is to provide the best value to their customers, while at the same time using a minimal amount of resources.
This is achieved through optimizing all of the company's assets, technologies as well as departments.
If a UX designer can do both design and code, then this is a big asset for lean organizations, which are usually small to medium-sized businesses.
Lean companies look at costs very carefully, so they tend to employ people who have a wider range of experiences.
Speeds Up Workflows
The design of a product is the beginning of the product development process. This means that the faster designers work, the faster a website can launch.
When UX designers have a better understanding of the possibilities within the code, then they do not have to get back to the development team for each small issue.
This does not only put less pressure onto the dev team but it also allows much better workflows where designers can react faster.
Increases Job Opportunities
With all the benefits of coding UX designers so far, knowing how to code makes them very appealing to employers, and it opens more job opportunities.
Especially lean corporations and startups tend to hire workers who can work with front end coding applications as well as design. The trend towards hiring 'generalists' is on the up.
When you can work on a wide range of the product design process, then you are much more agile within your company.
Saying this, there is always a little bit of friendly competition between designers and developers. Everyone is very careful not to offend and tell someone else to do their job.
This can become a problem when UX designers have coding knowledge, even if it is just CSS and HTML.
However, learning how to code can open a lot of doors for UI and UX designers, which may lead to other career opportunities.
Improves Collaboration With Developers
As mentioned already, there is always some competition going on between developers and designers, and there are situations where both worlds collide.
This is usually because UX designers do not understand some of the limits that coders face when programming.
On the other hand, developers do not know any of the design language that a UX designer uses.
UX designers who know how to code can assist with these issues and 'translate' so both understand the process and what is possible.
Coding UX designers often ask for much more realistic designs than those who do not have any coding experience.
Additionally, UX designers will also be able to make smaller changes to hand-coded prototypes, which means that they do not have to bother the developers with these small tasks.
In the workplace, everyone should feel that their contribution matters, and it is important to create a good working environment.
A UX designer who can code has the chance to considerably improve working relationships with team members, including developers.
Conclusion
Although coding isn't on the list of essential skills for UX designers, it can be a very useful additional skill set to gain a competitive advantage on the job market.
Advertising links are marked with *. We receive a small commission on sales, nothing changes for you.