Are you currently thinking about enrolling yourself in a coding boot camp?
Often referred to as a "shortcut" to higher salaried tech jobs, coding boot camps come with the promise of the ability to kick-start anyone's career within tech.
Not to mention, coding boot camps are often more affordable than other types of educational courses, tend to have flexible schedules, shorter class times and even learning curriculums that can prepare you for your very job.
The only question is, though, are coding boot camps truly worth it?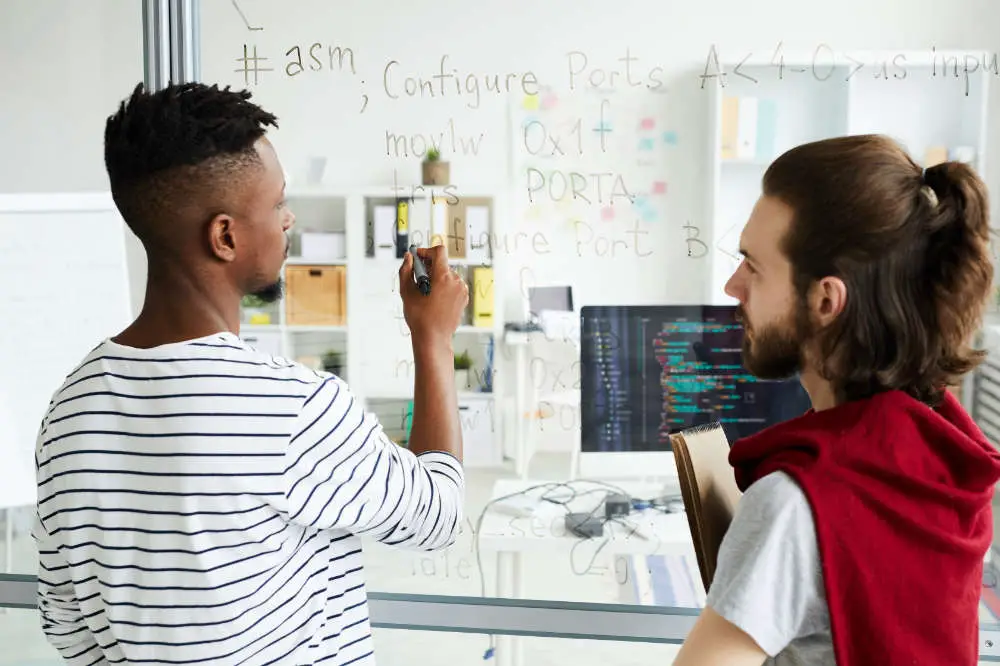 In this article, we are going to be taking a deep dive look into them, so that you can decide whether or not joining one will pay off (pardon the pun) with a well-paying tech job.
Let's take a look!
Advertising links are marked with *. We receive a small commission on sales, nothing changes for you.
Are Coding Bootcamps Worth It? Do They Get You Jobs?
Ultimately, everyone's experience of a coding boot camp is going to be different.
However, many people do believe that coding boot camps are worth it, especially for those who are looking for an alternative way from college to gain an education in tech.
At the time of writing this, the majority of college and university students studying computer science programs are undertaking courses that last upwards of four years, with tuition fees often reaching over $100,000.
Upon finishing, the average entry salary that graduates can expect to make in the US is just under $60,000.
On the flip side, coding boot camps are often far more affordable than a traditional college program and are typically around 3 months long.
On average, reports suggest that the average salary for those fresh from a boot camp is typically around the $,70,000 mark.
This means that coding boot camps are far more accessible and affordable than a college course, a lot shorter in duration, and (on average) lead to higher-salaried roles.
In addition to this, coding boot camps often consist of small class sizes, which means that they often offer a more enriching learning experience.
What Employers Think About Them
Given the fact that coding boot camps offer a streamlined learning experience that will help to develop the skill sets and abilities of new developers, it should come as no surprise to hear that employers find them to be a reputable and respected learning alternative to college.
So much so, that many employers within the tech industry often offer funded boot camps to their employees so that they can become more accomplished developers.
In particular, employers like the "fast-track" appeal of a boot camp, as they don't need to wait four years to hire fresh developers.
On top of that, employers also praise coding boot camps for their ability to provide students and potential employees with a hands-on learning experience that will prepare them for life as a coder.
In other words, attending a boot camp will likely help you stand out from the competition.
How To Make Your Boot Camp Experience Count
Still, there are plenty of ways that you can help to ensure that your coding boot camp experience leads to you landing your dream job.
Let's take a look at some of the best ways you can see success from a coding boot camp below:
Outline Your Goals Prior To Beginning Your Boot Camp Course
Before you start your boot camp course, it's a great idea to spend some time outlining what your end goals are.
Do you want to land your very first role within tech?
Or, perhaps you are trying to take your career to the next level with a higher-paying role within the tech industry?
Whatever your goals are, make sure that you clearly decide upon them prior to starting your course, so that your boot camp experience can be more enriching and rewarding.
Keep An Open Mind
Given the fact that coding boot camps can often garner a variety of mixed reviews, the key to having a great boot camp experience is to make sure that you keep an open mind.
For example, perhaps you will find that your career aspirations change during the course of the coding boot camp, or perhaps you will find that there is one language that you prefer over the other.
Be Prepared To Put In The Work
Last but not least, the final tip that we have to share with you is to make sure that you are ready to put in the work when you begin your coding boot camp!
In order to get the most out of your boot camp experience, it's important to work hard for the duration of the camp, as this will help to raise your chances of landing a tech job afterward.
Don't be afraid to immerse yourself in the course and ask as many questions as you can – the more in-depth your learning is, the more likely you are to find success from your experience during the boot camp.
Final Thoughts: Are They Worth It?
All in all, many people find that coding boot camps are worth it.
Not only are they a lot more affordable than the traditional educational route into the world of tech, but they are praised for their smaller class sizes, unparalleled support and ability to bring students up to speed as accomplished coders in just a few weeks.
Not only that, but as you will have seen above, statistics also show that the majority of students that attend coding bootcamps actually make (on average) more money than college graduates.
On top of all that, coding boot camps are even praised by employers for offering hands-on experience in a quicker amount of time, so they seem to tick all the boxes.
Sure, while they might not be for everyone, there's simply no denying that coding boot camps can not only fast track careers within tech, but open the door to higher paying jobs, too.
So, if you're in search of an alternative route into tech, a coding boot camp is definitely worth thinking about.
Advertising links are marked with *. We receive a small commission on sales, nothing changes for you.